Reflections on the LRT Announcement and Next Steps
LRT is a game-changer for Hamilton - as long as we truly seize the opportunity and muster the political courage to make the policy changes that will ensure success.
By Ryan McGreal
Published May 29, 2015
It has been a few days since the historic announcement of full capital funding for light rail transit (LRT) in Hamilton, and so I've had the chance to ride the euphoria and start thinking about the implications of the announcement and the next steps we need to take.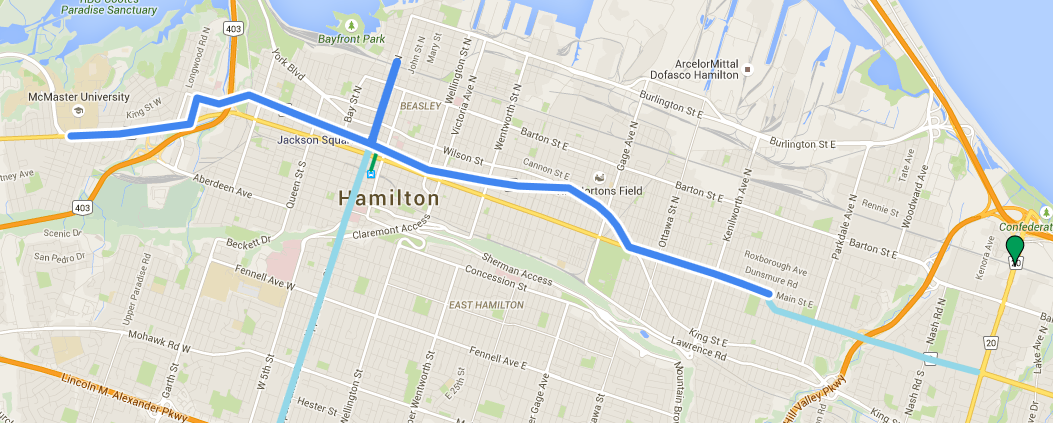 Map of approved and funded LRT route
Politically Inclusive
First of all, it's worth noting that this is a very politically smart plan.
Some plans seem designed to alienate and divide communities, but the rapid transit funding announcement was clearly calculated to maximize the overall benefits of LRT while at the same time serving a wide array of direct interests.
Ward 5 Councillor Chad Collins has decided that LRT in his ward is a bad idea. I happen to think he will come to rue this position in the fullness of time, but the fact is that he is an influential politician and it is much better for the LRT project for Collins to be onside or at least neutral than for him to be an opponent.
The Provincial plan gives his ward what he wants: expanded GO service and a foreshortened LRT that stops in the middle of Ward 4.
At the same time, the Province made it clear that the LRT line will "ultimately" be extended to Eastgate Square, just not right now.
Many people who criticized the B-Line noted correctly that it did not connect directly to regional transit via Hamilton's new GO Train Station, currently under construction on James Street North.
Most people forget that the plan was always for two LRT lines - an east-west B-Line and a north-south A-Line - and with the approved plan, we are essentially getting most of the B-Line and the first part of the A-Line with a spur running up James Street to the West Harbour GO Station. (If the budget allows, I would love to see this go right to the waterfront.)
The plan also includes a "higher-order" pedestrian route from the B-Line to the Hunter Street GO Station, which is a few short blocks away. It will likely run along Hughson Street, which is a narrow, low-traffic one-way street that stops at Hunter anyway.
Election-Resistant
But the plan is not just well-designed spatially. It is also well-designed temporally, in the sense that the timeline has been structured to prevent a future government from pulling the plug.
As Premier Kathleen Wynne said on Tuesday, "It's hard sometimes for politicians to think beyond an election cycle, so when I say things like, 'The work on that station will start in 2017', well, that means it's not gonna be finished by 2018 when the next election comes around. But you know what? That's not the point. The point is that government exists to make long-term investments, to look into the future, and to do things that we cannot do on our own."
The east-west section has already been assessed and designed to the point where the Province can start tendering contracts, but the north-south section still needs design and environmental assessment. According to the timeline, that work will be done over the next two years so that the Government can start locking in contracts in 2017, before the next election.
That means a subsequent government will have a hard time pulling the plug without creating another gas plant scandal in which huge amounts of public dollars are wasted on penalties for cancelled contracts.
Following that, construction work is slated to start in 2019, after the next election, so that ripped-up roads and temporary traffic don't turn LRT into yet another election flashpan.
Metrolinx estimates that an LRT construction of this size will take four or five years to complete, so we would be looking at an opening day in 2023 or 2024.
Provincial Infrastructure
It's also important to note that the Province is not giving the City money to build an LRT. The Province itself will be responsible to fund, procure and build the line, and the Province will own the asset once it is completed.
That means the City will not somehow end up on the hook for any cost overruns that might occur, as some naysayers have been suggesting. This is a Provincial project, and the Province will be in charge of designing, building and maintaining it.
It remains to be determined whether the transit service that operates on the line will be operated directly by Metrolinx or locally by the HSR.
In Toronto, the Eglinton Crosstown LRT will be operated by the TTC, but the TTC has expertise in operating higher order transit that the HSR lacks, so that model may or may not make sense here.
City Has Responsibilities
The Province will hold the reins on the LRT itself, but the City has a crucial role to play in ensuring that we align our land use and transportation policies with the LRT investment to maximize the benefits.
That means building on the Nodes and Corridors study that staff undertook a few years ago, including meetings with stakeholders and a series of public design charrettes along the line so residents could envision how the areas around the stations will grow and develop.
It means ensuring that we have a progressive Secondary Plan in place to support and encourage the kind of high-quality, dense, mixed-use and inclusive new development we want to achieve in the corridor around the line.
It also means seriously rethinking our transportation system on the streets within the transportation corridor, particularly Main Street. We'll get into more detail on this in subsequent issues, but Main Street must be transformed from its current configuration as a five-lane expressway into a complete, inclusive two-way street that supports walking, cycling, transit and local vibrancy.
We are already hearing stories about large developers deciding against investing in new projects on Main Street specifically because of the current design of the street. Far from a "competitive advantage", Main Street is holding the lower city back from achieving its potential.
Political Power Struggle
Out of nowhere earlier this year, senior staff produced a $300 million Ten Year Transit Strategy that was designed and calculated to offer the Province a way out of keeping its commitment to fund LRT.
In June 2013, staff had directed staff to come up with $45 million in new local funding for local transit improvement. Instead, staff came back with a $300 million plan using entirely provincial money to build a new bus maintenance facility and new local and express buses.
This poison pill was created against Council direction by bureaucrats who, having allowed themselves to become overly political, made a strategic gamble that both Council and the Province would pounce on this made-in-Hamilton get-out-of-LRT-free card.
Unfortunately, most councillors fell on the Ten Year Strategy like shipwreck survivors scrambling onto flotsam. They bolted the $300 million plan onto the existing Rapid Ready LRT plan as a way of playing the odds, but it was still a painfully low point in a Council term that was only a few months old.
But with this week's announcement, it is clear that the Province really was serious about its commitment to make bold investments in transformative infrastructure that will carry us well into this century. Instead of funding the Ten Year Strategy and delaying the LRT investment, the Province funded the LRT and brushed off the local transit request.
Mayor Fred Eisenberger, a consistent LRT supporter, has pulled off a major victory by successfully providing the Province with the courageous and enthusiastic local partner it was waiting for.
A big project like LRT needs local political champions to see it through all the challenges and upsets that happen along the way, and Mayor Eisenberger has demonstrated that Hamilton has that champion at last.
Combined with the standing unanimous Council vote to support LRT with full funding, that was enough for the Province to move ahead after four years of malarkey under former Mayor Bob Bratina.
Ten Year Strategy
It is time for staff to go back to the original Council direction to find new opportunities to boost local transit service levels with new investments of local money.
The city already receives both federal and provincial gas tax revenues - and the provincial gas tax amount is partly dependent on how well a city grows transit service! - in addition to the property tax levy to fund local transit.
We need to recognize the value of investing in local transit and start strategically building more capacity, particularly on the north-south A-Line. One big benefit of the LRT is that it will free up 18 buses that can be redeployed to increase service on other routes.
At the same time, the advent of LRT means the City has an opportunity - indeed, an obligation - to realign its legacy bus routes to maximize the capacity of the LRT lines.
We still have buses running on two-way streets along routes that only made sense when the streets were still one-way. There is plenty of room for fresh perspectives and innovative thinking to make more effective use of the transit capacity we already have, as well as making smart investments in growing capacity along strategic corridors.
Not a Magic Bullet
LRT is not a magic bullet, but it will be a game-changer for Hamilton - as long as we truly seize the opportunity and muster the political courage to make the local policy changes that are needed to ensure success.
That courage needs to come from both Councillors and staff - especially our senior management team, who hold the power to shape their departments' corporate cultures from top to bottom and align the City's workers with a strategic plan for success.
We have a particularly exciting opportunity in Planning and Economic Development General Manager Jason Thorne, who was the lead author of the Regional Transportation Plan and is an expert in transportation and land use planning.
It will be essential for Planning and EcDev to be much more closely involved in the Rapid Transit Office when it is re-formed. We can't make the mistake of allowing narrow technical considerations to eclipse the vital role of integrated strategic planning.
We also need more of the leadership that Transit Director David Dixon displayed in his defence of the doomed bus lane, when he advised Council, "It really depends on where you as a city want to be. You can lead people to become a more progressive, transit-oriented city, or you can choose to let that evolve naturally."
For better or worse - just kidding, it's for better - we have formally chosen to lead on becoming a more progressive, transit-oriented city. Now we need to let that choice guide our decisions.
Finally, we need to get everyone working together to explain this LRT investment to every Hamiltonian so that the City is aligned in understanding why this billion dollar investment makes sense. That includes Metrolinx, the City's reformed Rapid Transit Office and engaged citizens alike - we will all need to work together to ensure success.
On a final, personal note: after a few months of feeling truly despondent about the City's prospects for breaking out of its self-defeating legacy mindset, I am indescribably buoyed by this Provincial commitment to Hamilton's future. As I have been putting it this week, my cynicism has taken a major hit.
After more than ten years volunteering with Raise the Hammer, I have never felt more excited and hopeful about our city's potential. This is a once-in-a-generation opportunity to set the City on a robust trajectory of revitalization. I can't wait for us to get started.
Post a Comment
You must be logged in to comment.