Hamilton's Future: Forget About It
A myopic employment study prepared for City Council by Hemson Consulting imagines a dreary, low-skilled future of air transport and goods warehousing.
By Nicholas Kevlahan
Published February 09, 2007
Mid-winter can be a bit depressing, so I decided to cheer myself up by attending my first Planning Committee meeting at 9:30 am on February 1 at City Hall.
This was no ordinary meeting: the committee was to hear Hemson Consulting Ltd. present their comprehensive employment study Meeting long range employment land requirements in the city of Hamilton [PDF link].
I was looking forward to creative long-term thinking involving brownfield redevelopment, adaptive re-use of existing industrial buildings and ways of attracting a variety of high quality jobs to Hamilton. I also figured the report would build on Richard Gilbert's report (read the full report here - PDF link) on how Hamilton can adapt to peak oil and more expensive energy.
Hemson's answer (drum roll, please): Hamilton should focus entirely on logistics. In plain language, 1,000 ha of farmland should be turned over to warehousing and truck distribution.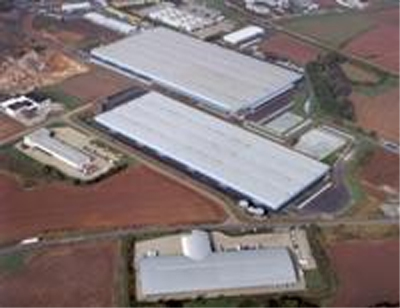 Magna Park, UK. Is this Hamilton's future? (Image Credit: Transport Intelligence)
Brownfield re-development? Forget about it. Hemson's Ray Simpson commented (rather ungrammatically), "Employment lands is what occurs in business parks". More specifically, these would be suburban greenfield business parks. Besides, new industry doesn't want to locate next to old industry.
Simpson didn't really have an explanation as to why Hamilton needs another 1,000 ha of greenfield land when it already has hundreds of ha of vacant business park land (except that the available land is too small for giant warehouses, and too far from 400 series highways).
A variety of high quality jobs? Forget about it. Bet everything on logistics. Burlington generates 55 jobs per ha, but Hemson claims that the best we can hope for is 30 (after all, warehouses don't create many jobs per ha). We can't hope to emulate our neighbour's job density because of Hamilton's location "on the edge of the GTA".
What about rail and water transport? Forget about it. A port will never create many jobs, and rail moves commodities (something Hamilton shouldn't be interested in). Full steam ahead on the Aerotropolis!
Protecting the environment? Forget about it. The consultants didn't know why there was an annoying greenbelt running through their proposed 850 ha Aerotropolis. City staff helpfully informed them that this was to protect the headwaters of 50 Creek.
Peak oil? Forget about it. Hemson can only deal with current conditions, they can't speculate about the future. (But isn't this precisely what a 20-year plan is supposed to do?)
All in all, this turned out to be not such a great way to kick off February! Back to the mid-winter blahs.
The whole discussion reminded me of a Ward 2 election debate I attended a few years ago. Ron Corsini (former Ward 2 councilor) was asked what could be done to revive the shops and other businesses on James St. N. His response: "Forget about it. Shops and businesses are never going to return to James North. They're gone forever."
Needless to say, Ron was wrong (he also lost the election).
This story shows the problem with much of Hamilton's long-range planning: a lack of imagination, ambition and creative problem solving. As reported in RTH, James St. N is being brought back to life by the sorts of creative people Hemson seems to think are in such short supply in the Hammer.
Luckily for Hamiltonians, the Mayor and councilors simply weren't buying the Hemson story. Mayor Eisenberger and Councilors Bratina and Ferguson noted that Hemson didn't provide any data or analysis of why brownfield re-development wouldn't work. It was simply their opinion.
There was only one option presented, and it puts all Hamilton's eggs in the Aerotropolis basket (much like GRIDS). In fact, it must have been pretty obvious to everyone in the room that the Hemson report was commissioned by the previous council to provide much-needed justification for the Aerotropolis project.
The Hemson report was supposed to form the basis of a series of information sessions inviting public comment. As the Mayor noted, it is impossible for the public to give informed input if only one option is presented.
Staff were instructed to prepare a detailed analysis of the costs and benefits of brownfield re-development, which will appear as an addendum to the Hemson report.
Perhaps the saddest thing about the whole presentation was the assumption that Hamilton can't hope to be anything more than a sort of giant warehouse for the GTA.
Hamilton is a diverse city of half a million people, and is home to one of the top research-intensive universities in Canada. I am certain that the residents of Hamilton are more ambitious and creative than Hemson Consulting Ltd.!
Post a Comment
You must be logged in to comment.