Postcards from Thunder Bay
What's with the grumpy Tunder Bay locals being down on their town?
By Ben Bull
Published November 26, 2008
Greetings, Raise The Hammer!
Well, it's been a long time since I last sent you a postcard, but hey - what can I say? I've been a bit of a homebody lately. After all the excitement of New Glasgow and Scranton, I needed some time to cool my heels and savour the memories ... you know how it is.
But now I'm back on the road again. So where am I this time, you ask? Hawaii, Las Vegas, Madrid...? No - Thunder Bay!
It's a work trip, again, not that I wouldn't go to Thunder Bay by choice or anything, it's just that, well, I wouldn't go to Thunder Bay by choice.
I didn't know much about TB before I set off. I thought about planning a trip to Sleeping Giant Park, which was voted one of the seven wonders of Canada. But then a friend told me, "It's not the actual park that's a wonder...it's the view of it from Thunder Bay."
"Oh."
Perhaps it says something about your town, when the best part about the place is the view of someplace else...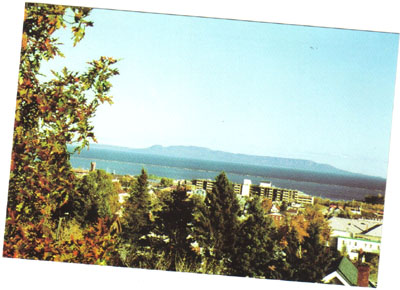 Sleeping Giant Park (the peninsula looks like a Sleeping Giant - get it?)
I could find little else to recommend TB before heading out, so I decided to reserve judgment. But then I got on the plane and sat next to a lassie from TB, who was returning after 18 months away.
"I don't know what I was thinking," she told me, as we prepared for our descent. "Nobody moves back to Thunder Bay. They only leave."
"Oh," again.
My first impressions weren't great. I do have a soft spot for small towns with their three-gate airports (actually I think TB has five), single-lane roads, and quirky local characters, but it was clear to me after driving five minutes into town, that TB was just another sprawl/mall town. You know how it goes - roads, malls, roads malls, single home housing, roads, malls... I could have been in Mississauga (or Woodbridge or Scarborough, or London...).
As with any place I go, I was looking for the heart of the place - the downtown. I figured, after my chat on the plane, that this would be easy.
"There are three downtowns in Thunder Bay," the girlie had said.
"Great!" I replied. "Which one is the best?"
"None."
Oooh...
I drove to the waterfront after checking myself in, and, true to its promise, the Sleeping Giant really is a cool sight.
What if it didn't look like a Sleeping Giant? I wondered, as I stared at the impressive, imposing island. What if it looked more like a dwarf with an erection? That would really suck. Try getting that on Canada's list of seven wonders.
The B&B lady who gave me the tour (see! I told you the locals were friendly) told me the local council wanted to revitalize the waterfront area.
"They want to put up a hotel," she complained, "but what's wrong with it now?"
She had a point. The main waterfront is a pleasant enough marina with a few footpaths weaving this way and that, and not much else. There's a small cafe area somewhere in the middle - closed for the winter, alas (is it winter already? It is in Thunder Bay) - and that's about it.
But what else do you need? What is it with these city councils and their hard-on for overdeveloped waterfronts? Give me a promenade, a bit of nature and a place to sit and think, and that's all I need down by the lake.
The fundamental problem with Thunder Bay's waterfront area, if you ask me (and even if you don't), is its lack of people. There is very little housing downtown - not a condo in sight - not much in the way of business, and no transit system that you can see.
So you've got car-centricity, no density, a lack of mixed uses (hell, now that the paper mills are closing you don't even have primary uses). All in all, it's a death-knell for any area.
Speaking of the paper mills, they look pretty cool lining up along the lake. I noticed a dilapidated one as we pulled away. "That is so cool," I remarked to my B&B friend. "Tthey should give guided tours."
"They're blowing them up," she replied (thank God she didn't say "imploding). "I think it looks awful."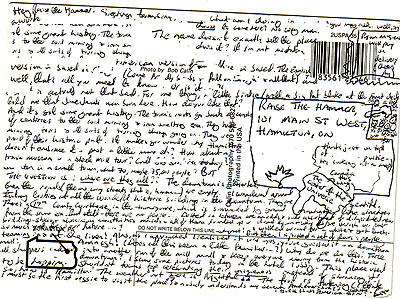 Why do people shun their history? I wonder. Why don't they value what makes them unique? What's shit to her is interesting to me. Shouldn't we cherish what sets us apart? (answer: yes).
OK I'm off to bed now. Got a big day at work tomorrow reviewing audit files. Man, I am so lucky! Trips to Thunder Bay and auditing for a living - it doesn't get any better than this.
Nighty night, Raise The Hammer.
---
Dear RTH,
Well I'm still here in Tunder Bay (I've decided it sounds better when you say it with an Irish accent ... don't ask).
Did I mention in my last postcard that there's no train station here? I hate flying, as you know, so I tried to book a train. But there's only one station, in Armstrong, two or three hours to the north. And the trip from Toronto takes, er, a day and a half. Where the hell are we, India?
So anyway, I drove to work this morning, and lo and behold, my office is in one of Tunder Bay's three town centres. You know this because there's a sign, right next to the 'Port Arthur Industrial Park' sign, saying, 'Town Centre'.
I figure if you need a sign telling you you're in the town centre, then it's not really a town centre.
So what's with the grumpy Tunder Bay locals being down on their town? First it was the airoplane girl. Last night it was the waitress at the bar. I went to Gargoyles for a bite, right before I tucked myself in, and after a lovely meal the waitress said to me, "I'm assuming you're here on business?"
"Why, yes I am," I replied, grateful for the chance to chat (I'd been reading the local paper so any distraction was a relief).
"Well, you would be," she shot right back. "I mean, why else would anyone come here?"
Bam! Oh dear, oh dear. Even in lowly Hamilton, folks don't go around ragging like that. It's just not right.
But it didn't end there. After wrapping up my work and heading back to the airport, I handed in my rental car. "I'm glad to be going home," I said to the car rental girl, just trying to be chatty (I do that a lot).
"Glad to be getting out of Thunder Bay you mean?" she corrected me.
What? No, I never said that...that's not what I meant at all. "No, no!" I protested, not wanting to cause offense. "Thunder Bay's not that bad."
"Ha!" she laughed, with a waft of her hand. "I hate the place. I wish I was getting on the plane with you."
I walked quickly away.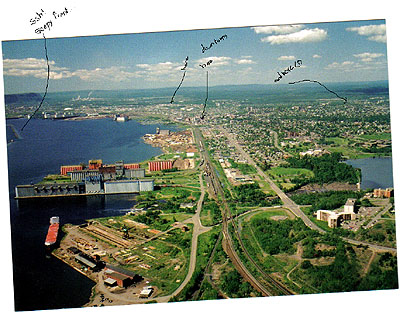 Aerial View of Tunder Bay - What's not to like?
Why does Thunder Bay cause such a reaction? I wonder. Admittedly, I can't imagine myself living here, but then again I couldn't imagine myself living in Hamilton, and I did for six and a half years.
It all made me wonder if it's time for the town to have an image makeover. I've thought up a few slogans just in case (Ryan, could you please send these on to the Tunder Bay tourist board? And while you're at it, tell them to change their name to Tunder Bay - it sounds way cooler with an Irish accent. Thanks).
Ben's Tunder Bay Tourist Slogans:
Thunder Bay - the view is great from here!
Thunder Bay - come on! It's not that bad!
Thunder Bay - Wait! Where are you going? Please don't leave!
Thunder Bay - I hate it here! Turn this plane around! I've made a huge mistake!
That last one has a nice ring to it, don't you think?
One last little anecdote: remember how I wrote about things that can only happen in Hamilton? Well get this, I've found something that can only happen in Tunder Bay.
I get to the newspaper stand at the airport, late at night, and slap a Toronto Star down on the counter. "Are you sure you want this paper?" says the girl. "it's yesterday's."
"Yesterday's?" I repeat, checking the date. Sure enough, they're selling yesterdays paper. "Why are you selling yesterday's news?"
"This is Thunder Bay," she replies, as if this were an explanation.
I suggest to her that with five or six flights inbound from Toronto every day, maybe they could get one of the pilots to ship them some papers...?
She stared at me blankly.
"You want to buy it or not?"
I asked her if it was free, given that it was old news after all.
"Of course it's not free!" she snapped, snatching the paper away.
Only in Tunder Bay.
Anyway, that's enough prattling, I'm about to pass through the security check (they only have one) ... well, as soon as they open it. (Don't you just love little airports?)
I'd better find a place to drop this off, because you know, it's probably going to take a few weeks to arrive, being that this is Tunder Bay and all, by which time I'll probably be, oh I don't know, savouring the delights of Cleveland, Sudbury, Detroit, Oshawa - there are just so, so many places to see!
I'm going to go check out the view from the airport before I leave. It's facing away from Tunder Bay so, you know, it should be pretty good.
Bye for now!
Post a Comment
You must be logged in to comment.