Toronto's Beaches Streets Survive 30 kph Speed Limits
By Ryan McGreal
Published November 15, 2010
Hamilton North End residents have been fighting with the city to get residential speed limits down to 30 km/h from the current 50 km/h, and an Ontario Municipal Board appeal is currently underway.
By chance, last week I was in Toronto's historic Beaches waterfront neighbourhood, just east of the downtown core. They seem to have no problem maintaining a residential speed limit of 30 km/h.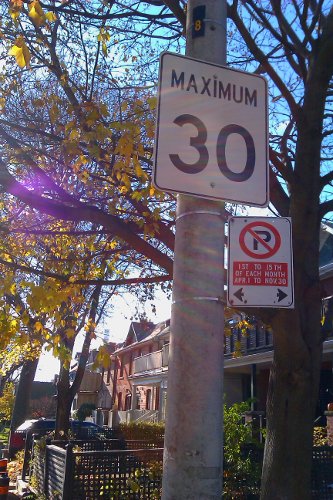 30 km/h sign on a residential street in Toronto's Beaches neighbourhood
A 30 km/h speed limit isn't just a "nice to have" urban amenity. According to a 1997 study by the UK Department of Transport, vehicle speed is a decisive factor in the fatality rate of collisions between automobiles and pedestrians.
At 32 km/h, the fatality rate is just five percent. At 48 km/h, it jumps to 45 percent. At 64 km/h (the fast edge of the so-called "Green Wave" on downtown Hamilton's timed streetlights), the death rate reaches a devastating 85 percent.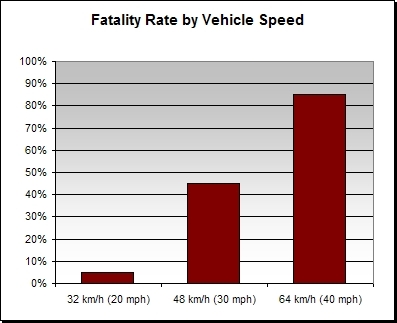 Fatality Rate by Vehicle Speed (Source: Killing Speed and Saving Lives, UK Department of Transport, 1997)
Of course, it's not enough just to set a lower speed limit and expect motorists to comply. Lower speed limits must be coupled with real changes in street configuration to send drivers a clear psychological message to slow down: narrower lanes, two-way traffic flows, curbside parking, overhanging street trees, and so on. (Traffic calming is more effective than frequent stop signs at reining in aggressive motorists.)
Post a Comment
You must be logged in to comment.