LRT Opposition Follows Same Pattern of Fear and Uncertainty as Past Failed Plans
The last 'Coalition On Sensible Transit' organized to kill LRT and then disappeared for 35 years without advancing any of alternatives or improvements they had used to kill the plan.
By Karl Andrus
Published April 03, 2017
During this precarious point in Hamilton's LRT project, I would like to review the history of Hamilton's past rapid transit debates.
Over last summer, I researched and submitted to City Council a comprehensive review of the history of rapid transit in this city. It provides a good historical context for the current discussion around Rapid Transit.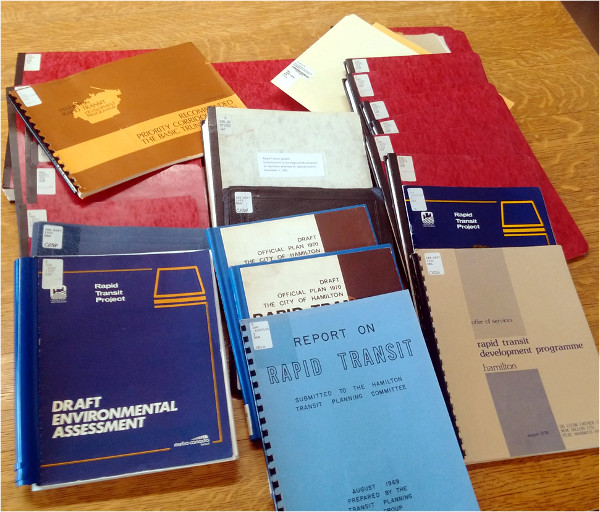 Decades of failed rapid transit plans since the 1960s
Why is this history important? If we learn it, perhaps we can avoid repeating the mistakes of the past. Over the last 50+ years, Rapid Transit has been studied to death. There have been dozens of studies on the topic.
We as a community have long understood the extensive need. In the last ten years, additional time and money has been approved and spent on further study and implementation. A natural procedural course of those studies is the Environment Project Report amendment Council is suddenly afraid to approve.
Full Capital Funding for the First Time
In previous requests for funding rapid transit, we have never gotten a commitment from any level of government to consider a fully-funded rapid transit project. 100 percent Full Capital funding. This is not just a once-in-a-generation opportunity, it is once-in-a-lifetime!
Consider:
In October 1971, responding to the city's request, the Province promised funding of $238 million ($1.45 billion in 2016 dollars) for 28 km of rapid transit, linking Mohawk Road at Upper James with Burlington Street through downtown. Another line was to run from Mount Albion Road to Highway 2 and Main Street in the West. This plan would have been funded 75 percent from Ontario Government and 25 percent from the Local/Regional Government.

In December 1981, an elevated Intermediate Capacity Transit System was proposed to run from Downtown to the Mountain. $111 million ($285,270,000 in 2016 dollars) 45 percent funding from Ontario Government, 45 percent funding from the Federal government and 10 percent from the local/regional government. (This technology was later installed in Vancouver as SkyTrain and is still running to this day.)
In February 2013, Council approved asking the Government of Ontario to fund a full B-Line LRT at a cost of $875,183,183.61 (in 2016 dollars), as long as the Province agreed to cover 100 percent of the capital cost.
Two years later, in May 2015, the Ontario Government committed to full capital funding - 100 percent - for Scenario D in the City's funding request: McMaster to Queenston Traffic Circle, the second-best option approved by City Council. (Rapid Ready - Expanding Mobility Choices in Hamilton (PW13014))
The money is coming from the Moving Ontario Forward fund and will be returned to the fund to be used in other projects if we do not use it. Other cities have already expressed interest in Hamilton's rapid transit money if we turn it down.
This is not theoretical: it has already happened to Brampton, which turned down their LRT project at the last minute. In a narrow 6-5 vote, Brampton Council rejected the HMLRT. Some of the six Councillors were of the belief that a better alternative route is out there and they could still use the money for it.
That city has to fund the development of its new rapid transit plan from local tax dollars and won't have another transit plan ready even to submit for funding consideration until at least 2020.
The argument that we can just do something else with the cash is simply false. If history doesn't convince you then how about the modern discussion?
Unfounded Fear of Change
Now, I understand the fear such a massive project can bring on local businesses. Change can be scary, especially when you feel your livelihood could be on the line.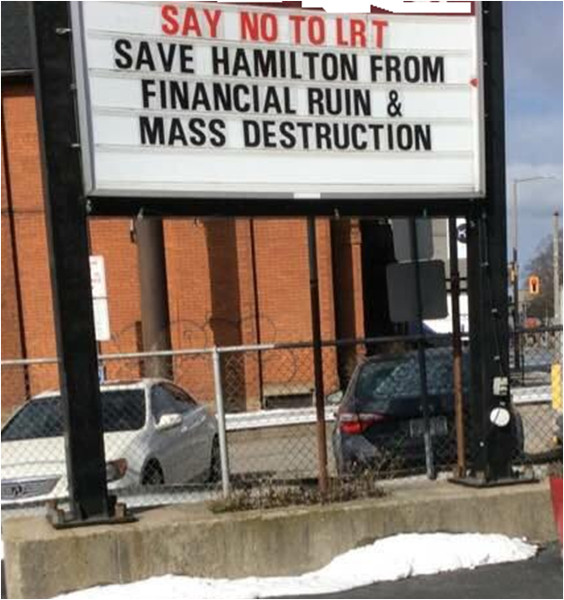 'Say No To LRT' sign
The misinformation being spread by project opponents could fill anyone with an apocalyptic fear. Doomsday scenarios are common among those most strongly opposed to the current and previous Rapid Transit Project.
It turns out that in Kitchener-Waterloo, the construction of LRT did not live up to the doom and gloom forecasts. The Uptown Waterloo BIA reported only two member businesses that closed due to construction.
"Was there fear and frustration? There was when construction started (in 2014)," said Patti Brooks, executive director of the 450-member Uptown Waterloo Business Improvement Area. "One hundred percent of the kudos go to our businesses for doing what they needed to do."

In the end, she says, "We only had two businesses that closed due to construction."
Meanwhile, dozens of new businesses have opened aong the line and major new developments are underway.
Of the thousands of business along the KW LRT, only a small number have filed a lawsuit claiming any kind of loss or damages to their business.
Coupled with the experiences Hamilton has learned from the recent Concession Street reconstruction and the goodwill and support of local community organizations who wish to help shop along the corridor during construction - like the Stinson Community Association, which is committed to support our local BIAs and businesses during LRT construction - I believe the hysterical fear, while understandable, is not justified.
Same Pattern of Fear, Uncertainty and Doubt
Speaking of fear, justified or otherwise, here is a sampling of clippings from newspapers in Hamilton during the last Rapid Transit debate. I have pasted clips mostly from civic politicians and members of the group opposed to the last RT project.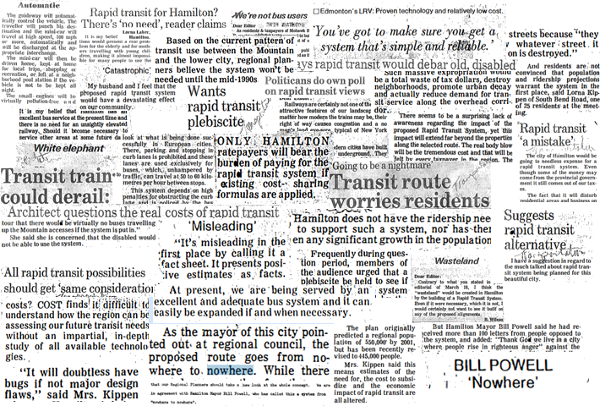 News clippings from previous rapid transit debate
Notice the many similarities in the tone and phrasing of the opposition. While often the points are coached in valid or semi-valid questions, they are commonly used disingenuously to fan the flames. Legitimate concerns are frequently manipulated to disrupt and disengage rather than inform and contribute.
Think about the irony of people opposed to this new project project reviving the "Coalition on Sensible Transit" brand. In the last rapid transit debate, that group established themselves as a bunch of concerned citizens trying to propose what-ifs and why-nots around a sure thing.
Also ironically, the group that garnered so much support because they wanted to champion better public transit, more buses, ask the tough questions, propose alternative technologies and transportation methods ended up accomplishing none of them.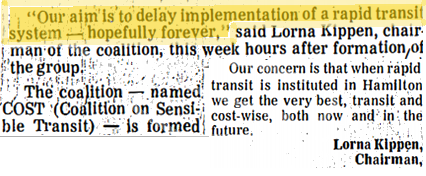 Mission accomplished?
None of the alternative technologies or routes or routes propsed during the last debate were ever implemented or even seriously advocated. Instead, the HSR has experienced a long, steady and catastrophic decline in inflation-adjusted spending and ridership without a peep from the "Coalition On Sensible Transit".
The group continued to be active in the historical record to oppose another intercity Rapid Transit project called GO-ALRT, and then disappeared altogether, from what I could find in the newspaper clippings after that project's demise.
It now appears another generation has resurrected the same name to accomplish the same thing the last group did: "delay rapid transit..forever"
Post a Comment
You must be logged in to comment.