Upper James Rapid Transit a Dumb Idea
It is disturbing that our transit officials are now being told to put the aerotropolis scheme ahead of providing service to those who want and need it.
By Don McLean
Published December 20, 2007
Can someone please explain why a rapid transit line is being planned for Upper James Street - the announced destination for half a dozen new 60-foot articulated buses worth $5.5 million?
The latest provincial announcement envisions a rapid transit line from downtown to the airport along James and Upper James using the new big buses.
Have the city and provincial transit planners ever visited Upper James? Surely they would agree that it ranks among the most transit-unfriendly streets in Hamilton.
It is almost entirely composed of strip malls, car dealerships and fast food joints. How many people take the bus to or from such "destinations"?
There are hardly any homes and even fewer apartments along this road, and nearly none south of Mohawk Road. Who is going to fill up those mega buses?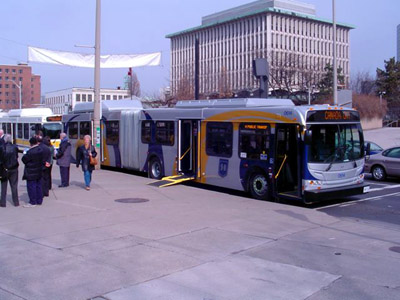 Public Works wants to buy six new hybrid buses to operate on Upper James
Aerotropolis Buy-In
At a recent poorly-attended official plan workshop, I asked planners why they think Upper James should be a higher-order transit corridor.
The first words out of the mouth of the head of the consulting team were: "It's a north-south corridor linking the airport through to the downtown."
When asked where the bus passengers would come from on this desolate commercial drag strip, the best the planners could come up with was the possibility that Upper James will be transformed over the next 20 years.
While it's good news that the provincial government is willing to pay for more HSR buses, one gets the strong impression that all their officials are doing is signing the cheques, and the critical question of where to spend that money is being left to local pushers of the aerotropolis.
Presumably no one has told the province that the HSR has extended bus service to the airport twice in the last decade and withdrawn it both times because of a lack of passengers.
Hopeful v. Real Demand
It is disturbing that our transit officials are now being told to put the aerotropolis scheme ahead of providing service to those who want and need it.
Along many Hamilton streets, especially in the west end, riders are still being left on the curb because the bus that just went by was too full to stop.
Let's put the new buses to proper use on HSR routes that are already overloaded and where people actually live.
Extending a rapid transit service to the mountain is a good idea and a necessary step - but there are lots better places to put it than along Upper James to Mount Hope.
It makes more sense to run it up James Mountain to Mohawk College, along West 5th to Terryberry Library, then east along Mohawk Road - a street that is dominated by apartment buildings.
The route could go to Upper Ottawa at least, creating a mountain spine for the HSR system and putting most of upper Hamilton's residents a short distance from a rapid transit service - especially once it's converted to light rail.
Post a Comment
You must be logged in to comment.