Rejected Market Vendor Plans to Appeal
Julia Serna has launched a petition to support her appeal against the City's decision to reject her Colombian coffee stall at the renovated Farmers' Market.
By Ryan McGreal
Published November 18, 2010
this article has been updated
Julia Serna is angry. She just found out that her market stall, Julia Serna Colombian Coffee, will not have space in the renovated Farmers' Market when it re-opens in December.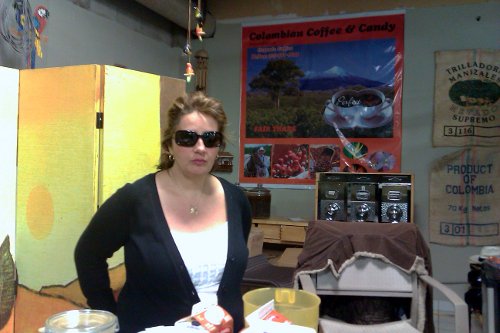 Julia Serna looks angry because she's angry
Thanks to updated building code requirements and a new community kitchen, the renovated Market will have room for fewer stalls than the old space.
City staff developed a set of selection criteria that emphasizes local farmers and producers, artisan and handcrafted goods, organics and diversity of product mix. It also heavily weighs a complete application form with all required documentation.
Julia's stall sells organic, fair trade Colombian coffee - by the cup or by the pound - as well as organic chocolate, tea, and sugar. She also sells delicious empanadas.
The City sent letters to all the applicants who were not selected. Julia's letter reads:
In total, 95 application were received by the deadline of 4:00 pm on Tuesday October 12, 2010. There were many exceptional applications received. Tough decisions had to be made based on the mandate and direction provided by Hamilton City Council. At this time, it is not possible to offer your business a stall at the renovated market.
The letter notes that the review committee evaluating the applications was composed of representatives from the Ontario Federation of Agriculture, Ontario Ministry of Agriculture, Food and Rural Affairs, and Farmers' Markets Ontario, as well as local representatives.
It also offers Julia an opportunity to appeal the decision by requesting a delegation to the next meeting of the Hamilton Farmers' Market Transition Sub-Committee, which will be held on Thursday, December 9.
Julia, an immigrant from Colombia and a single mother supporting her teenage daughter on the proceeds of her small business, feels the City does not do enough to support small, independent businesses.
She worries that she will lose her house if she's forced to close down her coffee shop, but refuses to give up. "I am a strong woman. I have cried because I'm so angry, but I'm strong and I will fight."
She brings a dim view of politicians and the political process with her from her homeland. "Colombia is a beautiful country, rich in natural resources, but there's too much corruption. I dealt with politicos, I know what they're like. The City told me, 'Don't worry, don't fight, you might be selected', but now I have to fight."
She adds, "Canadians are very nice, but they're too polite. They don't want to protest."
Julia is not afraid to protest. The sign on her espresso machine reads: "The City Says NO to Julia Serna Coffee. Please Say Yes!" She is gathering petitions and already has six pages filled. She's preparing an appeal to present to the City.

Customers of support are signing her petition and writing letters of encouragement
I contacted the City and asked for a list of which vendors have been approved and which have been rejected.
Anna Bradford, a culture division director in the City's community services department, replied to tell me that she can't provide that information because the appeals process is still underway and the list of stallholders has not yet been finalized.
She added that the appeals process has been communicated to the stallholders multiple times throughout the application process, and that some spaces have not yet been allocated. The decision of the Hamilton Farmers' Market Transition Sub-committee on December 9 will be final.
If any spaces are still available after the appeal, they will be made available under the same application process and selection criteria.
On a more general note, Ms. Bradford wrote, "A key objective of the Market is to offer a variety of high quality products. It is anticipated that the product mix will include local to internationally sourced products as well as some organic, heritage and specialty items."
Councillor Brian McHattie is the chair of the five-member Sub-Committee that will hear the appeals. In an email to RTH he wrote, "I know that City staff have made themselves available to meet with unsuccessful stallholder applicants and some of those individuals will be coming to speak to the Sub-Committee Dec 9."
Update: I asked Anna Bradford why Julia's application was rejected. It seems to me that a small, independent business selling high-quality, organic, fair-trade specialty goods seems like precisely the kind of business the Market needs. Ms Bradford replied:
I cannot speak to Julia's application specifically. However, vendors were urged to meet with staff to review the comments from the peer assessment. In some cases the issue of a low score was an incomplete application. In some incidents receiving the requested information will complete the application process and make the appeal quite easy.
Post a Comment
You must be logged in to comment.