Stay of Execution for Gore Buildings
Blanchard has the opportunity to incorporate the streetwall and lend the new development an instant, tangible connection to the community history. It will have more support, more buy-in, and ultimately, more economic success.
By Ryan McGreal
Published July 10, 2013
The demolition of 24 and 28 King Street East is on hold after a last-minute deal between property owner Wilson-Blanchard and downtown Councillor Jason Farr.

Fencing went up around 18-18 King Street East this week (Image Credit: Sean Burak)
Farr's office issued a news release late yesterday afternoon stating that he met with David Blanchard and city staff from Planning and Economic Development and the City Manager's office.
At that meeting Councillor Farr requested and it was agreed that any demolition would be stopped on the 24, 28 King St. Gore Park buildings as a solution is sought to maintain the architectural and heritage character of the Gore properties. This interim step allows time for continued community input, as well as dialogue between Mr. Blanchard and city staff.
The city will also seek an independent peer review of the engineering report Wilson-Blanchard had conducted on the buildings.
Farr is quoted saying, "Gore Park is important to this entire community. I remain committed to finding a solution that allows us to maintain the architectural and heritage character of Gore Park while also trying to move forward with this exciting project."
Background
Wilson-Blanchard submitted a demolition permit application last December, just before the Christmas break. While some of the buildings predate Confederation and the City recognized their heritage value, the buildings were not designated and Council made it clear that they would not convene a special meeting to pass an intent to designate.
However, Farr and Councillor Brian McHattie met with Wilson-Blanchard in January and negotiated a compromise that would preserve 18-22 King Street, the so-called Kerr building that was designed by famous architect William Thomas and built in the 1840s.
Under the details of the compromise agreement, which Council passed, 24 and 28 King Street East would be demolished and the rear two-thirds of 18-22 would be removed. Wilson-Blanchard would submit a request to revoke the demolition permit for 18-22 after an engineering study and the City would add the building to its register of properties of interest.
However, that register confers no legal protection under the Ontario Heritage Act, and Wilson-Blanchard indicated they would preserve 18-22 "if possible" - i.e. no guarantee.
But over the past seven months, opposition to the planned demolitions has steadily grown as citizens have argued that old buildings can be restored successfully and profitably, Wilson-Blanchard doesn't actually have a redevelopment plan yet and the demolition would violate the City's Downtown Secondary Plan.
Demolition was going to begin this week, so the stay of execution is literally an eleventh-hour reprieve.
Willingness to Hit Pause
The buildings are by no means out of danger. However, this new agreement at least buys some time to try and find a way to save some or all of their heritage value.
Blanchard is to be commended for his willingness to hit pause on the demolition plans and work toward some kind of agreement that satisfies their business needs and protects Hamilton's built heritage.
Yes, it would be better if Blanchard intrinsically recognized the heritage value of his properties. And if the last seven months of anxiety, desperation and last-ditch efforts to save the buildings were not necessary. And yes, if Blanchard's recent commentary had been less disdainful.
But we need to keep in mind that Blanchard is doing this of his own volition. The buildings have no heritage designation and he already has the demolition permits.
He knows City Council is unlikely to lift a finger to designate them under the Heritage Act. To put it bluntly, Council does not value heritage.
As CBC Hamilton's Paul Wilson points out, Oakville Council has designated 50 buildings in the past five years while Hamilton Council has designated zero.
Hamilton's Council is substantially the same group of people who approved the demolition of the Lister building, which everyone is now proud of having saved. Go back and read that sentence again and let it sink in: Hamilton City Council didn't see the point of protecting the Lister from the wrecking ball.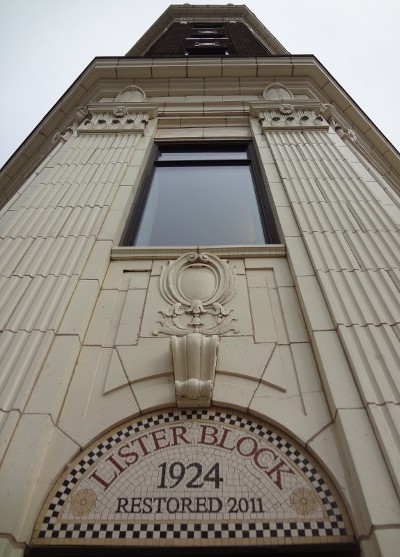 Lister Block 1924, Restored 2011 (RTH file photo)
The only reason the Lister was spared was that Councillor Brian McHattie asked the Province to intervene at the last minute, and then-Culture Minister Caroline DiCocco brokered a deal to save it.
But today, the same Provincial government refuses to intervene and exercise its own heritage preservation powers after Culture Minister Michael Chan was asked to step in.
Goodwill Worth Recognizing
In other words, the only reason these buildings are still alive is that Blanchard is allowing it. Notwithstanding everything else, that show of goodwill is worth recognizing.
Blanchard is not afraid of Council or the Province blocking his plans: rather, he seems to understand that the Gore buildings are more important to the community that he had anticipated.
After the January deal Farr and McHattie brokered to save 18-22 King Street East, Blanchard stated:
I appreciate that Hamiltonians care about the history of their city. We've been looking long and hard at all the options and feel confident about this new direction to preserve the façade of 18-22 King Street East.
Today, the main thing staying Blanchard's hand seems to be a recognition that his own legacy as a responsible property developer is in jeopardy: it turns out people really do care about the Gore.
This should not come as a surprise to anyone. To this day, Hamiltonians are still bitter about the 1980s council that undertook the "Gore Park Chainsaw Massacre" and chopped down all the trees.
As incomprehensibly short-sighted as that decision was, trees grow back. Buildings do not.
Best of a Bad Situation
Farr and McHattie have been criticized for not pushing harder at the time, but we must remember that the only leverage they had was to try and persuade Wilson-Blanchard to do the right thing. They knew Council would not support an intent to designate.
In a response to heritage advocate Diane Dent sent this past Sunday, Farr wrote:
[Y]ou made it clear to me that while saving all the properties would be a good thing, it was imperative every effort was made to save the Kerr Building(s) from demolition. I worked hard to do that following our conversation. ...

As I have in the past, I will once again ask the developer to consider, at the very least, holding off the demolition until the new development is ready to go. I will call Mr. Blanchard tomorrow morning first thing. This said, and with all respect, Council has voted on a compromise and it would remain as such from my perspective should the owners chose to continue as planned. In short, I would not be seeking a two/thirds majority to overturn my previous Council compromise motion.
The challenge now is to use the remaining time to find a permanent solution. That may entail Graham Crawford's proposal for a three-way partnership to finance the facade restoration. After all, heritage preservation is a positive externality that benefits society as a whole.
Heritage is an Investment
But ultimately, what will save the buildings is the developer coming to understand that heritage is an investment that pays real dividends, not a mere cost centre.
The economics of heritage property have been improving steadily for years and will continue to get better.
The real value proposition for a new development in the block bounded by James, King, Hughson and Main is a modern, tall, mixed-use development with a historic facade at street level. Think of the Vancouver model of a 3-4 storey streetwall with an elegant tower behind it; or the many developments in Toronto that incorporate a new construction with an historic facade.
People pay a premium for distinctiveness and personality. City centres are gaining value and popularity in part because they offer a deeply personal experience to people who live, work and play there.
Hamilton has made enough tragic mistakes in heritage preservation. We've lost enough buildings. We've destroyed enough of our proud history.
We have a unique opportunity to save an essential piece of not just Hamilton's but Canada's built heritage - there's a reason the Gore is on Heritage Canada's ten most endangered buildings list.
It would be a tragic missed opportunity to aim for the local maximum of a glass-and-steel new build on a flat canvas. Blanchard has the opportunity to incorporate the streetwall and lend the new development an instant, tangible connection to the community history. It will have more support, more buy-in, and ultimately, more economic success.
Post a Comment
You must be logged in to comment.