Why Trucks Suck
Far too many people make irrational choices of vehicle, and manufacturers continue to use obsolete engineering in their trucks.
By Ted Mitchell
Published February 26, 2007
Several unfavorable safety statistics belong to trucks and truck-based SUVs. The chance of a single vehicle crash resulting in death is about 50 percent higher in trucks. Also, drivers are more likely to be male and drunk, especially in rural areas.
If you keep your eyes open, it is difficult not to conclude that truck drivers are more aggressive on average. A Transport Canada engineer once told me that this crowd makes the worst possible combination: the most aggressive, young, undereducated male drivers are drawn to vehicles that have the least stability and pose the most danger to other road users.
I could quote more statistics, but imagine this: you are driving a top rated, Canadian built Honda Civic about to get T-boned by another vehicle, which do you choose: a) another Civic, or b) a 2,300 kg 4x4 truck?
It is no stretch to assume the truck can kill you when the Civic will not (further details of vehicle incompatibility risks are available from NHTSA). What if that truck is actually just a commuter vehicle, as is the case most of the time? Your death will be due to the other driver's vanity.
Buying an Image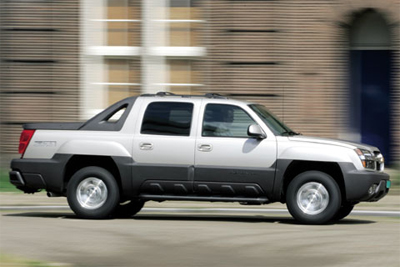 Stylish truck: this may look like a working truck, but that impression is wrong. It is primarily a fashion accessory. (Image Credit: Autoweek
Despite a rapidly urbanizing population with unpaved roads as rare as common sense, sales of light trucks continue to climb. If we were being sane, this graph should show a downward trend: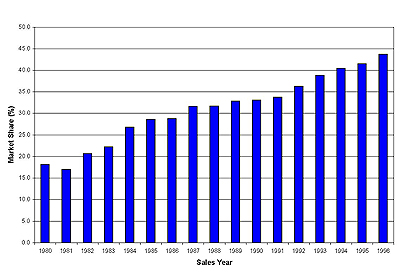 Market share of LTVs (trucks, SUVs, vans). (Image Credit: NHTSA - click on the image to see larger)
The growth in market share of trucks and SUVs is so counter-intuitive that forces other than practicality must be strongly at work. For anyone who watches TV, you should be aware where the problem starts: marketing.
After years of enduring a barrage of ridiculous claims and innuendo, the public no longer can see the exaggeration. We accept phrases like "rethink truck", "professional grade engineering", "like a rock", and other assertions of toughness, reliability, and patriotism.
Advertisers are keen on encouraging settings with a masculine look and country music in the background, emphasizing family values and nostalgia. Buy the truck and apparently you become like this.
Most of the time their claims are greatly exaggerated or simply outright lies. For example, one of the earliest Mercedes M-class ads had a picture of a whitewater kayak beside the SUV.
I recognized the kayak model because I owned it. It turns out that the kayak was longer than the inside of the SUV, which did not have a roof rack. Picture that fancy Mercedes driving down the road with a kayak sticking out the back, hatch half open and tied down with yellow rope. Why don't they make honest commercials like that?
The truck is not a truck anymore. It is a fashion accessory, a declaration of personality and values, a sex symbol, and compensation for low self esteem for those who confuse the terms "tough" and "mean". It is a patriotic statement not only in association but in actuality, since the solvency of the Big Three depends largely on the high profit margin of body-on-frame trucks and SUVs.
Vanity Trumps Need
Now if you try to match your actual needs with the attributes of various types of vehicle (my last essay dryly describes this process), it is very difficult to justify owning a truck.
Perhaps 15 percent of truck purchases can be defended, and these are overwhelmingly by contractors and farmers. For the SUV, this number is more like one percent. However, you will find that SUVs are perfectly suited for touring the African savanna.

An SUV in its element. If you concentrate really hard, it kinda looks like the QEW. (Image credit: Savannah Champs)
So internalized are the factors I speak of that it is probably useless to try convincing the purchasers of trucks of what they are actually doing.
Expect silly rationalizations about why they in fact "need" a truck. If that excuse falters, well, "it's a free country". Yes, unfortunately; free to cause harm to others, effectively in the name of a style fad.
So we don't need more efficient, cleaner trucks, hybrid trucks, etc. We need fewer trucks, and more people to stand up and say no, that truck you own is ridiculous.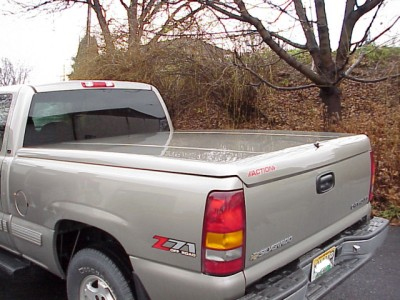 Truck bed cover: Does anything say 'this truck doesn't do real work' better than this accessory? It reduces the utility of a truck bed to that of a car trunk. Why not buy a car? (Image Credit: Auto-Trim)
Crimes Against Engineering
In the mid-1970s, cars and trucks looked the same underneath. That is, body-on-frame, non-independent rear live axle on leaf springs.
Five to ten years later, coil springs replaced the leaf springs in cars, and minor upgrades were made to the front suspension as well. This improved suspension tuning slightly, but the big benefits had to wait for the unibody frame.
Leaf springs allow heavy loading but are never really "tuned" properly because of the wide range of sprung weights. Tuned for no load, a full one will make it bounce violently. Tuned for the rated load, it is very jittery and hard to control when empty, which is the usual case.
The solution to this is adjustable suspension like the air shocks in transport trucks. But that is not an option as it costs money. It is easier and cheaper to buy performance via clever advertising.
By the mid '80s, unibody cars started showing up in numbers. These first iterations were not so amazing, but after a few design refinements the benefits were boldly apparent. By the early '90s, cars were nearly all unibody and vastly outperforming trucks, which had not developed their frame technology at all.
Today, only the beastly Crown Vic retains body on frame, and you can still see the lumbering monsters wallowing around in the guise of taxicabs and police cars.
The Impression of Sportiness
To the uninformed, modern trucks can give the impression of sportiness. Mostly this is a function of fancy paint, chrome, advertising and words like "Sport" suggestively painted on the back.
But trucks also have firm suspension, so they superficially resemble real sports cars. Only, in a truck, once you lose traction, things get ugly. These simple suspension designs have a very low cushion for error, especially when paired with grippy low profile tires.
Unibody / four wheel independent suspension cars allow you to predictably squeal all four tires in a fast corner, but don't try that in a truck, the result is generally not predictable, especially on uneven surfaces.
Now here is a technical breakdown of where manufacturers should be indicted.
1. All jacked up and nowhere to go.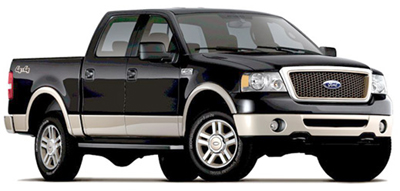 Why is this truck so tall? Because it looks tough and sells better that way. This rare marketing photo actually shows the rear differential, usually photos are aligned to hide it behind a tire. (Image Credit: Ford Canada)
Tall vehicles, from an engineering perspective, accomplish nothing positive. More ground clearance in the centre of the vehicle is of no use when driving off-road if you have a massive differential hanging down from the axle, asking to snag on rocks and stumps like an overgrown scrotum.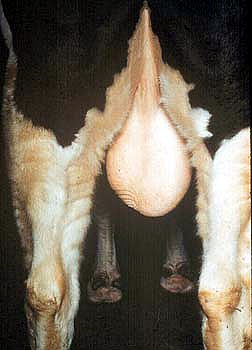 Orchitis: If you were designing a real off-road vehicle, where would you want the most ground clearance? (Image Credit: University of Pennsylvania School of Veterinary Medicine)
The negatives of height are numerous: increased instability and loss of control, greater rollover propensity, difficult entry and exit, and harder to load cargo.
Of course, the most heinous is the increased risk to other road users, where the longitudinally stiff frame can override a passenger car's door sills. This is the "battering ram aimed at the head and torso" of car drivers.
The live axle shown above is very heavy. In unibody / independent suspension designs, these components are part of the sprung weight. The difference is remarkable. Excess unsprung weight is all bad. Ride is rough and traction is impaired.
3. Non-independent suspension. (Live axle)
When one rear wheel hits a bump, the other wheel's motion is affected negatively. This adds to the rough ride and poor traction.
4. Low frame stiffness in torsion (twisting)
The equation that governs twistability says that torsional stiffness is proportional to the width of the frame cubed. That is, since truck frames are about half the width of the body, there is a factor of 23 = 8 times the stiffness due to frame width alone.
In addition, the geometry of unibody frames is more favourable than the truck ladder frame for torsional stiffness. Taking both factors together, ballpark a difference of 20 times between the torsional stiffness of car and truck frames.
It is common to see truck beds visibly wiggling over small potholes. Perhaps nothing is as necessary for a performance car as a torsionally stiff frame. Not only does this enhance handling and ride quality, it also reduces noise and vibration.
The Bottom Lines
Body on frame vehicles have two overwhelming advantages. Low assembly cost means high profit margins keep the Big Three alive. Second is manufacturing flexibility, which means that many different bodies can be fitted to the same frame.
Consequently, sheet metal is rapidly adaptable to changing styles, a fantastic advantage in an industry based on fashion fads.
If trucks were to be made with unibody frames, they would have the following advantages:
Vastly improved torsional frame stiffness
Lower overall weight, as the same metal performs two functions, frame and passenger compartment
Design allows a strong passenger compartment and sacrificial crumple zones
Minimizes centre of gravity for a given ground clearance
Easily permits fully independent suspension with a low unsprung weight ratio
What you experience:
A quieter, more comfortable ride
Superior handling and traction
A higher level of occupant safety both in reducing and mitigating crashes and rollovers
Better fuel economy, acceleration and braking
Easier cargo loading
What others experience:
Lower risk of death in multiple vehicle crashes
Lower air pollution emissions
Lower risks for pedestrians and cyclists in the event of collision
What Next?
30 years ago, cars and trucks were on a level playing field. Today, the differences in frame and suspension engineering are massive. There is only one truck, the Honda Ridgeline, which uses unibody technology. It is also top rated in performance.
Recall this is the first attempt Honda has made at a truck, versus nearly a century of experience for the domestic competition.
Think about this proposal: if you drive a commuter vehicle, that is, not a heavy commercial truck, it should meet uniform criteria for stability, gas mileage, emissions, and crash compatibility. (Currently, such criteria either do not exist or different, arbitrary standards are used for cars and trucks.)
The easiest way for manufacturers to meet such criteria is to use unibody technology for trucks. Otherwise, if the vehicle can't meet criteria, a relevant business license and commercial driver doctor's exams should be required.
Given the massive risks posed by large vehicles, commercial drivers should also meet performance criteria for collision history and have psychological profiles that exclude high risk drivers.
Or, we could revert to the time honored ideology that the market knows best. Given the auto sector's track record, we know roughly what to expect: serious resistance and misinformation campaigns, capitalizing on patriotism and other clever marketing ploys.
Expect auto journalist whores to label the Ridgeline a "pansy, urban boy toy", not tough enough for real men who need real trucks.
So the verdict is in: You do not "need" that vanity vehicle, and it is more obsolete than you can imagine.
Final Note
Critics may pan the 'theoretical' nature of this essay. That would ignore some 2,000+ hours of off-road driving experience I accumulated during my youth in northern Ontario. As any northerner knows, the performance of real off-road vehicles such as dirt bikes, ATV's and skidders will thoroughly embarrass the most capable of four-wheel drive trucks and SUVs.
Despite using a truck for its intended design: 12 cords of wood a year, countless loads of garbage, tractor parts, hay bales, camping trips, etc. ad infinitum, our family did not "need" a truck.
A car with a roof rack and utility trailer would do most of those chores easily. If it would not, there was always the tractor and hay wagon.
Post a Comment
You must be logged in to comment.