Meadowlands East Puts New Centre Mall to Shame
By Jason Leach
Published October 06, 2009
Next time you get a chance, drag yourself to the new box centre at the junction of Linc/Red Hill.
I was there yesterday and I meandered around the site (in my car, of course) to see if it was just as bad as the Meadowlands and Centre Maul.
Believe it or not, they are developing a streetscape along Upper Mount Albion Rd. It's no Locke Street, but it's miles better than "The Centre on Barton".
It's quite frustrating, actually, because all I would have liked to see (besides a proper mixed-use development) on Barton was street facing stores like they are doing on Albion Rd.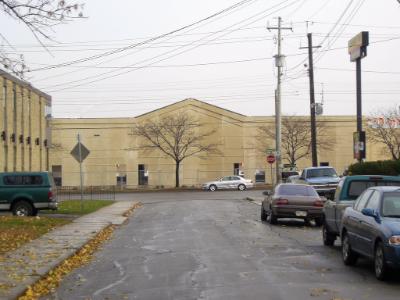 Centre Mall big box store from Barton Street (Image Source: Flickr.com)
There are parallel parking bumpouts similar to the stretch of Hughson between King and Jackson, and the buildings are built right to the sidewalk with entrances off the street as well as the parking lot around back.
Why we didn't demand at least this treatment for Barton Street is beyond me. Here is a street in the middle of nowhere with nothing on it that gets treated better than Barton. They've used stamped concrete and some cobblestone in an effort to make it appealing.
Believe me, it's way more appealing than the parking Lot on Barton.
If I'm ever back out that way I'll snap some pics, but anyone in Ward 4 should be ticked off to see their area once again treated second class.
Councillor Sam Merulla and the city promised a nice mixed use project, and then we end up getting something even more suburban than what they are building now in the suburbs.
I guess local councillors figured, "Ah, it's only Barton. Who cares..."
Post a Comment
You must be logged in to comment.